Blog
Central South University of Forestry and Technology, China visit to Bangor University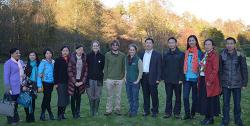 CSUFT VisitIn November 2014, a group of Professors came from Central South University of Forestry and Technology, China, and visited Bangor University. As part of our trip we were able to visit Treborth Botanic Garden. Staff and volunteers at the Garden warmly welcomed us. After an introduction into the Two Dragons Garden project by Dr Sophie Williams we then were given a tour of the fantastic facilities.
The garden has many wonderful plants, all very important for teaching of botany and plant sciences. We walked through the formal garden and into the woodland where we saw the site of a Forest School – a new idea in China.
We spent several hours learning about the teaching at Treborth Botanic Garden in articular the new Plant Conservation MSc programme. We also had chance to enjoy being in nature.
Thanks again for hosting us!
Zhanying Gu
Publication date: 7 December 2014