Blog
Eight things I learnt about Christmas in Xishuangbanna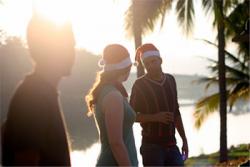 Head elves, Faith and Kyle, relax by the side of the Luosuo riverChristmas in tropical, southern, China is a very different experience from what I am used to. The following is a list of things I learnt over the holiday.
1. Preparation starts early.
When we first travelled to Banna in late November, one of the few requests we received was to bring tinsel with us. At the time I thought this was a very strange request, especially coming a month before the winter festivities began. Now I know that when you want something in such remote place, you start early.
2. You have to make friends
One of the most welcoming places to go for a beer after work is the Luosuo Café (known as "Donna's Café" to most). Donna, the owner, is an angel who cooks masterpieces and makes lovely conversation. We were able to use her café as our venue because of this close relationship with her.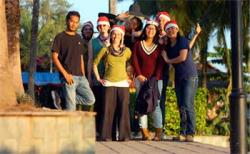 All the Christmas helpers, (from left to right) Sreekar, Sam, Faith, Sophie, Aki, Pepsi, Kyle, and Jessie.
There are very few big ovens in Banna. Those lucky enough to own them, only have small toaster ovens which are fine when cooking for oneself but are impossible when cooking three ducks for 35 people.
Head elf, Kyle, was able to befriend the owner of the Duo Guo restaurant who allowed us to use his pizza oven for the day.
3. You need to know the language
Last minute purchases of food and decorations were gained from the market. Even a little knowledge of how to haggle in Chinese helped make the process much cheaper. At the moment, my buying abilities are limited to pointing at what I want and saying, "Duōshǎo qián" (How much is it?) in the most confident way possible. Most of the time I do not understand the responses and have to ask, "Qǐng zàishuō yībiàn" (Say that again, please), until the numbers make sense to me. But sometimes I understand the numbers right away and am even able to ask for a better price. Clear communication has become very important to me in the past few weeks.
4. They come in droves
Three days before the party, ten people were coming. Two days before the party, 20 were coming. On the day of the party, 35 adults and some children had RSVP'd.
While we were confident of our ability to feed people at the early stages of preparation, we ended up rushing to double the number of mince pies and Yorkshire puddings hours before people were due to arrive.
When there is a party in Xishuangbanna, there is a party in Xishuangbanna.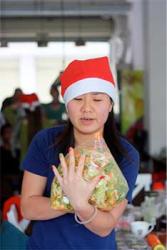 Jessie shows off her festive fingernails as she makes her "Asian salad"5. The menu will be a mix
Yorkshire puddings and mince pies-English
Stollen-German
Asian salad-Chinese
6. It comes down to the wire
There was a very tense moment when the food had been served but the gravy had not been finished.
Sophie, Faith and I were hurriedly mixing in the kitchen while calls of, "I WANT GRAVY" were shouted at our backs. I found this statement very adventurous as we were only volunteers.
7. You might lose a friend along the way
One of the highlights of the night was the white elephant gift exchange that took place. It was all a game until Faith unwrapped a beautiful wall hanging which I got a hankering for. Minutes later, I prised it from her hands and immediately regretted it as the onslaught or threats and verbal abuse that ensued was too much.
I still don't think I have been forgiven.
A Xishuangbanna Christmas from Sam Herniman on Vimeo.
A timelapse of our Christmas dinner in Donna's cafe.
Music: Shovellin' by Lee Rosevere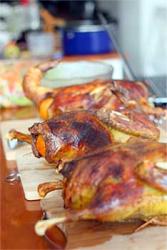 The ducks patiently wait to be consumed.8. It will be alright in the end
Despite all the things that could have gone wrong (burning the duck, not cooking the duck properly and poisoning the guests, not having enough food to go around, etc.) everything worked out.
The dinner was a success, no fights were started, and we had a lovely afternoon stroll on Christmas day.
It may well have been my best Christmas yet.
Cheese bread-American
Bara Brith-Welsh fruit cake
With so many nationalities turning up, the menu was bound to be from all over the place.
Publication date: 7 January 2015