Blog
Inspiring Nature Journaling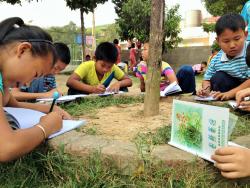 The observation begins!March has been an incredible month for me as I visited multiple schools around Xishuangbanna with the wonderful theme of 'Nature Journaling'. The activity involved groups of young children of varying ages. Each child was given an XTBG notebook with the first step taking place in the classroom where the students were asked to draw their own version of a leaf, ant or flower. Next, some of the participants were chosen to come to the front of the class to present their artwork. During this time we discussed the details of the object drawn (i.e. how many legs the ant has or the shape of the leaf). Then we headed outside for some true nature exploration where the children could search the school grounds to observe and sketch leaves, ants or flowers in real form. Finally, after some time outdoors, we headed back into the classroom and asked a few students to present their drawings and note the differences. We were all amazed by the skills of the students. Their artwork became full of life, detail and diversity.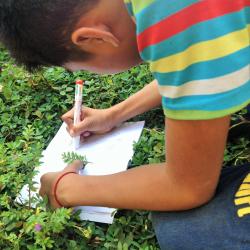 The finest detailsI was fortunate enough to be asked to lead these activities (with the help of translation of course!). The children showered me with smiles, enthusiasm and curiosity. I really enjoyed watching in silence as each child began to find a comfortable position and became acquainted with what they were drawing in observation using all of their senses. The students learnt that nature comes in many forms and in so much special detail and beauty.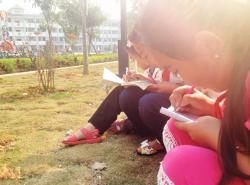 Hard at workThe students were encouraged to take their notebooks home with them so that they could continue to record interesting findings in nature to share with their friends, family and teachers.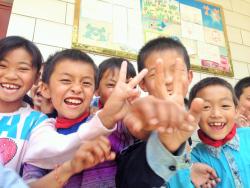 Excited KidsI truly believe that this activity helped to open the student's eyes to the wonders of the natural world. I know it did for me.
Publication date: 20 April 2015