Blog
My fantastic experience in Wild Elements
During April, I have taken part in several wonderful activities in Wild Elements, a forest school in Bangor. As an environmental educator from China, I cannot stop thinking the differences of education between China and UK.
We have different ways to conduct activities. Wild Elements provides a lot of free-time play for kids to strengthen their physical function, and motivate their creation and sociable interaction. The educators are very patient and always show their respect towards children's personalities. By one hand, they are ready to support everybody whenever they need, like good friends. By the other hand, they give more opportunities to train children's life skills, for example, building dens, cooking picnic, climbing, planting, painting, and other funny things like that. They also use special teaching packages to help children do Science Research. This way can make children more relaxed to enjoy themselves. However, I didn't see much interpretation of nature. Is this enough to increase children's environment literacy? In China, we also provide various activities to kids aged from 3 to 14. The biggest difference is we plan more because we want to give some information about nature, biodiversity conservation, or science research in a short time period to make our education more effective. Besides, we emphasize interpretation of the surroundings and also organize kids to share their feelings or discoveries with other participants to motivate their further communication and awareness. Also, children usually don't have much free play time in nature to experience adventure. Will this somehow limit young people's creation skills when they face with environment issues? So, maybe we could practice different ways and evaluate which is better, or should we seek a balance between free play and organized education.
Managers use different ways to treat their team. For example, leaders of Wild Elements show much thoughtfulness and friendship to encourage their staff. While in China, we use more criticism than praise to make improve. Just as the saying goes 'Pressure is the driving force pushing a person to lead a better life'. Exactly, I have no idea which way is better. How do you think the different ways? Every road leads to Rome, so we just keep our own style? Or, every coin has two sides, so we need a balance? I think it's silly to say this is good, or that is bad. It depends on different conditions.
In one word, it's my first time to experience a forest school of UK, which greatly broaden my horizon, and help me to reflect how we can do better in the future.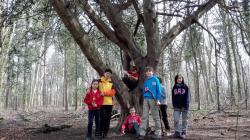 Working with volunteers
Publication date: 27 May 2015