Blog
My First Week in Bangor
What would you think of a Chinese woman who began her first staying abroad for several months? I don't know other people what they will experience and how they will feel, but I do know myself while I stay in Bangor, UK.
Kiss Goodbye to My Family.
It's my first time to go abroad! On the last day at home, my family prepared a really big meal to celebrate my further study abroad. They also rented a car and go to Gasa Airprot to see me off. I took lots of pictures with my daughter, my husband, and my mother in law. With their deeply love and best wishes, I started my adventure.
Curious and Excited
When I landed safely in Manchester airport, curious and excited feeling came up my mind. Lots of native people with native words around me, I recognized I became a foreigner at that moment and I was helpless and ignorant like a baby. I just followed my friends Sophie and Uromi, did what they did, and went where they went. On the train to Bangor Gwynedd), my friend took many naps, while I kept my eyes open.
Beautiful Place and Nice People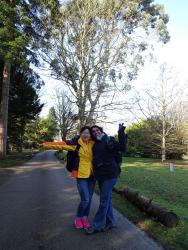 Treborth With UrominWe arrived at Treborth Botanic Garden in the deep night on 13th March. Gratefully, Nigel, the manager of Treborth, kept the entrance still open. Sophie was nice, she arranged her partner Robert drove us directly to Rivendell and provided us a lot of food. Then Shanshan showed our bedroom, Uromi and I were so tired after a long journey, we easily fell asleep.
I didn't know how long I had slept. But when I woke up, I heard many birds singing, really lovely songs! I got up and looked outside through the window, there are many plants dancing with wind. What a beautiful weather! I quickly put on clothes and ran downstairs. I saw Uromi was in the kitchen preparing breakfast. She taught me how to heat bread by pop toaster and how to eat bread with fruit jam and butter. That was my first trying to eat typically western food.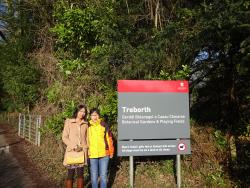 Treborth with ShanshanAfter breakfast, our roommate Shanshan showed us around the Treborth Botanic Garden and told us many interesting things about Treborth. I was deeply impressed by the difference compared with Xishuangbanna Tropical Botanic Garden, which is short for XTBG. For instance, the birds here are very close to people. Some wild ducks usually visit Nigel's house for food like a friend, some robins often stay with gardeners once they want to eat earth wormy. I wondered why, is it because people are not too many here or the differences between cultures towards animals? A few species in flower, gentle wind, warm sunshine, tell you spring is coming.
In the first three days, Sophie arranged a series of activities to acquaint us with Bangor University, Confucius Institute, the streets and famous sceneries. Thus far, it was my first time to stay with all English speaking people, and need to remember many English names in a short time. That's Brilliant! I can practice my English more effectively.
Adapt Difference and Overcome Homesick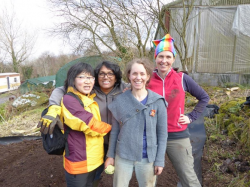 Visit to Sophies house to garden with friendsAs you know, roses will always have thorns. I do encounter some problem, which we call jet lug, culture shock and homesickness. Time in UK is 8 hours behind China, so in the first few days, I usually woke up at about 2:00am and feel very sleepy at about 3:00pm. As for the culture shock, I made lots of joke of myself. For example, I planned to by laundry detergent, but I finally bought a clothing disinfection. Another example, I planned to go across a road, I should firstly look my right hand, but finally I looked my left hand first and nearly hit on a car. Anyway, I can get used to this difference now. Which troubles me most was the homesickness! Each time I phoned my daughter through We Chat, I could saw my daughter's sadness, and heard her words expressing missing me very much with tears. As a mother, I have deep affection of my child, and I hope I can go back home right now. But I can't do that, because I am here to improve my knowledge and skills. So I am really appreciating my husband Shore, Sophie, Uromin and Shanshan. They encouraged me to pursue my further study and give me many help to overcome homesick.
Made a Timetable and Focus on Work
This is what I want to share with other people most. Many Chinese people they don't make to do list, they do things more flexibly than people here. But it's very easy to forget important things and departed from your long term goals, and waste time on worthless things. A poor plan will make you feel busy and boring. So I made my first timetable here.
That's what I have experienced and felt so far. Now, my work here is really beginning.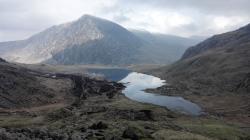 Amazing view from the top of a mountain in Bangor
Publication date: 26 March 2015