Blog
Strengthening environmental education research
What a treat for me to be invited by Dr Sophie Williams to participate in the Bangor University joint botanical gardens project with China in August this year. My job as Director of the Wales Environment Research Hub at Bangor University, normally focusses on environmental affairs in Wales, and tends to keep me stuck in the office or attending science-into-policy meetings throughout Wales. But by background I am a botanist and plant taxonomist with most of my earlier career spent overseas. So I had no hesitation in agreeing to contribute to the Environmental Education course at the Xishuangbanna Tropical Botanical Garden (XTBG) in Yunnan, China, this summer.

Landscape of Xishuangbanna Tropical Botanical Garden (XTBG) in Yunnan, ChinaAnd what a great experience it was. Instant reactions and immediate perceptions were: lush jungle, heavy heat and humidity, tropical monsoon downpours regular as clockwork every afternoon, a great brown river (the Mekong) rolling by the window of my accommodation, giant bats and enormous weird insects everywhere, verdant and colourful gardens frequented by scores of polite and happy families, electric cars and scooters silently creeping up on you on the "wrong" side of the road , superb modern scientific facilities, excellent visitor apartments and some of the most fascinating and exotic food that I have ever experienced.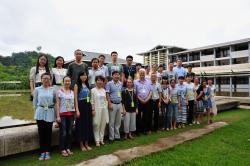 Education staff from botanical gardens all over ChinaBut the most memorable aspect of the three week trip was the enthusiastic and dedicated group of keen young education staff from botanical gardens all over China (including XTBG), who were attending the training course. Such a bright and funny group, their intelligence and commitment shining through and offering great hope for China's efforts to tackle problems of biodiversity conservation and environmental management now and in the future.I assisted Sophie and XTBG staff, with contributions on botanical gardens and education programmes from around the World. I also delivered a special session on "Citizen Science" - the involvement of members of the public and volunteers in studying nature and collecting observations for answering scientific questions. During only its first stage, the "Open Air Laboratories" (OPAL) programme has distributed 250,000 environmental education packs to schools and community groups throughout the UK, including Wales, and has already received back 50,000 completed observation sheets on biodiversity, soil condition, water quality, air pollution and climate. XTBG staff and the training course participants were keen to learn more about citizen science, as there is as yet no similar initiative in China. Sophie is therefore looking to include more on this aspect in next year's course. It was pointed out that if an equivalent citizen science programme were to gather momentum in China, then not thousands but millions of returns of scientific observations might be expected; potentially the largest scientific experiment ever undertaken!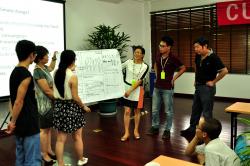 Classwork sessions
Our classwork sessions on the Environmental Education course at XTBG, were punctuated by field work in the gardens and visits to nearby attractions such as the "Skytree" rainforest canopy walk. An excursion into the strictly conserved "Greenstone" forest that forms part of Xishuangbanna Tropical Botanical Garden was particularly enjoyable. In a relatively short distance we were able to observe the contrasting vegetation of the sweltering banks of the Mekong River, the mid-altitude forests of giant tropical trees with buttressed roots and strangler vines, and the misty limestone mountain tops with their gnarled and contorted, bonsai-like trees, covered in mosses and lichens.
Altogether a wonderful experience, and one which will become available to Bangor University students who as the China Gardens exchange scheme develops over the coming years.
Publication date: 1 October 2014