Blog
The People of China and their Welcoming Hearts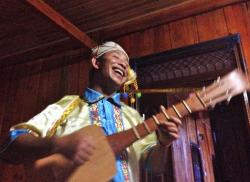 A song for you he saysI have been warmed by people of China. The pure generosity and welcoming nature has taken me aback. It started from the very beginning of my trip and has continued to grow into a strong confirmation and astonishing wonder of such kindness and community. My first taste of this was joining a dinner at the home of the head educator, Ximin, where his wife and mother showered us with overflowing dishes of deliciousness! This is when I learnt perhaps one of the most useful phrases to prevent my belly from bursting: 'Wǒ bǎo le' or 'I am full'.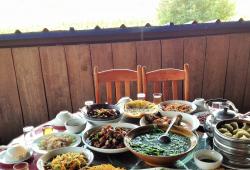 The belly is always fullIf ever granted the precious opportunity to experience Chinese hospitality you will soon learn that this is a handy bit of Mandarin as your host will continue to offer you helpings until the bowls are bare; making sure you are well fed and happy. Remember these three words and you will satisfy the cook.
The list goes on. I have been taken to a wedding reception for a couple I have never met. Nevertheless, I was invited to share their joy and feast with their friends and family. I gratefully joined my co-worker Geng Yanhong on a weekend family trip to the ancient and renowned tea city, Pu'er. I have visited schools, towns and villages where I have been treated as an honoured guests. Showered with food, bags of hand-picked tea and a dedicated musical performance with a homemade traditional instrument and full traditional dress.
Most recent and most memorable came when I was touched by the kindness and giving nature of a man who was honouring the gods and selling incense on top of the Baishuitai in Northern Yunnan. I sat quietly and to myself as he sang in the background. It wasn't long before he invited me into his shade. He had a fire going with a cast iron pot full of something wildly aromatic. He carried on with his routine as I watched intently. He removed the pot from the flame and poured it into a wooden plunge, mixing the mysterious liquid. He had two bowls laid out where he drained the contents evenly and handed one to me. It turned out to be yak butter tea; a Tibetan staple. I was so incredibly grateful for his generous offering I could feel it in my bones. We slurped while kept my hands full of fresh bread and cheese. This man had little from my assumptions yet gave without thought or condition. What a lesson to be learned and to take with me wherever I go.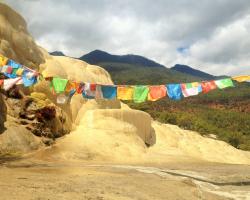 Baishuitai - a place of worship and generosityLanguage can stand tall between us but the wall proves never to be quite tall enough. We have reached up and over to a common ground; feeling the human connection through laughter, smiles and offerings.
Publication date: 12 April 2015