Blog
Yang Xi visits Treborth and other Botanic Gardens across the UK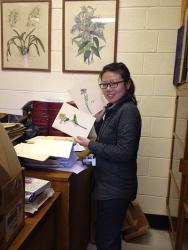 Yang Xi visit the Treborth Botanic Garden Herbarium Nice people, beautiful garden, blue sea, great mountains with a lot of sheep, everything in Bangor is amazing. It was really a nice journey to visit UK. Lucky for me, it barely never rained when I visited UK.
One of the best thing in Bangor was to meet the friends of Treborth and give a talk to them about China and Chinese Union of Botanical Gardens (CUBG). There were about 30 people came to the lab of Treborth for my talk. I could tell from their eyes that they really want to know more about China and Chinese botanical gardens. It was a pity that I could not introduce more just in 30 minutes. But I was happy that they had so many questions for me after the talk. Living in Treborth for about ten days was a great experience, because it gave me a good chance to know people there and what the two dragons gardens would be like.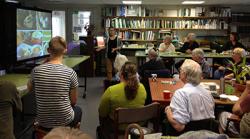 Yang Xi gives a presentation to a packed audience at Treborth Botanic Garden I visited Royal Botanic Garden, Edinburgh and Royal Botanic Garden, Kew after I left Bangor. They are the best botanic gardens in the world. I learned a lot from the tours in the gardens and the meetings with the horticultural and science teams in the Edinburgh Botanic Garden. When I was in London, I also visited BGCI's office and met Asimina, the head of Educaiton, to talk about the possibility of cooperation between BGCI, XTBG and CUBG on education programs. All these meetings brought me great ideas about my work. I hope I could use these ideas to make the training programs of CUBG better.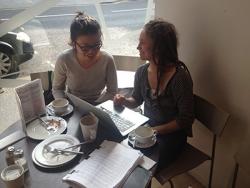 Yang Xi and Sophie work on the six month report for the British Council funding whilst enjoying tea and cake in an Edinburgh Café. What impressed me most in UK was that British people is very interested in nature and plants. The strong plant culture in UK made it a very beautiful country. What a worthwhile trip! I particularly want to thank Sophie Williams for arranging everything in UK for me.
Publication date: 22 October 2014